True or False: The Truth About Cloth Diapers
This post contains affiliate links.
Have you seen the look? You know, the look. The look of sheer horror when someone discovers you use cloth diapers? I'm not talking about the look of "oh my goodness we just became BFFs" when you tell this tidbit of information to a new found cloth diapering mama. No no. I'm talking about the look you get when someone who has never seen a modern cloth diaper finds out you use cloth. I think the best version of this look was thrown at me by a flight attendant on a West Jet flight back in August of 2015. She was giving us the low down on flying with an infant (even though we'd done it multiple times before), and then she pulled out this plastic bag and asked me to put any dirty diapers into it before we threw them in the garbage. I said, "I don't need that, we use cloth diapers." I've never seen so much confusion and horror flash across someone's face in an instant like that. I get it. She'd probably never seen a modern cloth diaper, and yet she probably had all kinds of assumptions about them. She probably had a lot of the same assumptions about cloth diapers that my own relatives had before they saw our diapers in action. Not only did people tell me that they'd placed bets with their child-free friends about how long we'd last using cloth diapers, but they also told me all the reasons that cloth diapering was "choosing the wrong path". I kid you not. I've decided it's high time I write up a post with the most common assumptions non-cloth diaperers have about cloth diapering, and reveal the hard truth about cloth diapers. 
1. "Your house is going to smell like poop."
True or False: False. Yes. Someone told me that if I cloth diapered my baby that my house would smell like poop. Let's get a few things straight about poop. First, if your baby is exclusively breastfed (EBF) their poop doesn't stink. I know this is incredibly hard to believe, but anyone that's had a newborn baby knows this to be true (even Obama agrees). But the assumption that because I use cloth diapers to catch my child's poop means my house will smell like poop is completely false. You see, there's a little something called a toilet, and my understanding is that there's at least one in most homes these days. Once your child's poop actually starts to smell (ie. when they start solid food), it goes in the toilet and is flushed away. (In case you didn't know, this is actually something you're supposed to do whether you use cloth or disposable diapers.) So we don't actually have a whole lot of smelly poop just hanging around the house. I mentioned this assumption to a good friend of mine who uses disposable diapers for her children, and she looked at me with an eyebrow raised and said, "Umm, no. I've been to your house and it does not smell like poop." There you have it.
2. "You'll have buckets of gross diapers soaking all over the house." 
True or False: False. Soaking modern cloth diapers in anything (even just plain water) is not recommended at all. First, having buckets or tubs of soaking diapers anywhere in your house is a potential drowning hazard with littles running around. Second, soaking diapers can actually do more harm than good. It's especially hard on the elastics of modern cloth diapers to leave them soaking for any significant length of time and can result in drastically reducing the longevity of your diapers. It's also a perfect breeding ground for bacteria. The longer you soak diapers, the more bacteria there will be, and the more stinky your diapers will get. There's absolutely no need to soak your cloth diapers as part of your normal washing routine. Washing machines (yes, even HE front loaders) clean diapers just fine without any additional soaking.
3. "The special detergent will be so expensive." 
True or False: False. Well, technically yes, those "cloth safe" detergents can be quite pricey, BUT you don't have to use them (and in all honesty, I don't think you should use them). Did you know that almost any mainstream detergent without built in fabric softener is safe to use on your cloth diapers? It's true. In fact, I use Tide Original HE powder, and I use that same detergent for all the laundry I do. There's no need to spend tons of money on specialty detergents. The odds are good that whatever you use on your regular clothing will work well on your diapers! (If you'd like some tips on choosing a detergent for your cloth diapers, check this out.)
4. "Your utility bills will skyrocket from all that extra laundry." 
True or False: False. I wondered about this too. Adding an extra load of laundry every three to four days would surely drive the cost of my utility bill up, no? So I did some math and the results surprised even me! It turns out that the increase to my utilities is actually really minimal (averages out to less than $3 more/month).
5. "I hate doing laundry, it takes too much time. You'll be doing laundry ALL THE TIME." 
True or False: False. Do you take your laundry down to the river and pound it on the rocks for hours on end when you need to do your laundry? No? Me neither. There's this lovely appliance called a washing machine. Believe it or not, it does all the work for you! Once every three to four days, I dump the dirty diapers in the machine, press a few buttons, and then I walk away. I spend less hands on time washing cloth diapers than the time it would take me to drive to the store, walk to the disposable diaper aisle, line up to pay, and drive home. As a bonus, I spend exactly no time scouring flyers (or the internet) for the best prices on disposable diapers.
6. "You're going to be touching poop." 
True or False: True. But guess what? If you're a parent, you're going to be touching poop whether you use cloth or disposable diapers. It's just a fact of life with a baby. Babies poop a lot. Sometimes they don't wait until the clean diaper is on before they start pooping. Sometimes you step out of the way in time and it misses you (but hits the wall/floor/your partner), sometimes your sleep deprived self doesn't move fast enough and it ends up on you. Other times the poop is so incredibly massive that there's no way those wipes are going to spare your hands from poop. Yes, I've touched poop, but I'd hazard a guess that there isn't a parent out there who hasn't. Although I do have to remove non-EBF poop from a cloth diaper, there are plenty of non-poop touching ways to go about doing that. My favourite method is the Spray Pal diaper sprayer and shield method, and then once poop is solid it literally rolls/shakes right off the diaper with no poop touching required.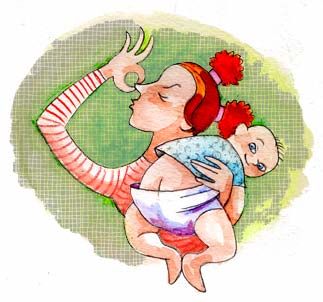 7. "Cloth diapers leak!" 
True or False: False. Cloth diapers are actually pretty leak proof. Yes they need to be changed more frequently than disposable diapers, but I don't consider that a bad thing. Would you like to spend five or more hours sitting in your own urine? I know I don't, so I can say with certainty that my kids wouldn't want to either. The only exception to that is overnight. Yes, we use cloth diapers overnight, and yes they last a solid 12 hours without leaking. Cloth diapers should be changed every 2-3 hours during the day, and some diapers will last a solid 4 hours before needing to be changed. Of course, if baby poops the diaper gets changed right away. To go back to the whole touching poop thing, there's one thing that rarely (if ever) leaks out of a cloth diaper. It's poop. Even runny, humungous EBF poops. Even runny, humungous baby's not feeling well poops. A poopsplosion in a cloth diaper is a very rare phenomena and is usually the result of user error rather than diaper failure. Yes, you'll have edge to edge to edge poops, but the elastics in cloth diapers do a beautiful job of containing even the largest of messes (even when they happen in the jumperoo). From my experience with disposable diapers, the same cannot be said about them. When we were using a combination of cloth and disposable diapers in the early days with The Heir and Petit Prince, we had multiple poopsplosions out of the disposables. The most common were the up the back poopsplosions where the disposable diaper seemed completely incapable of containing the poop, but I've seen poopsplosions out the legs too. A friend of mine reported a poopslosion that went out the legs, down to baby's feet in their sleeper. How much poop do you think those parents touched trying to clean that one up?
8. "Cloth diapers stain and look dirty." 
True or False: True. Yes it's true. Stains are a very real thing with cloth diapers. An effective wash routine can definitely minimize stains, but that gold EBF poop is particularly staining (which you'll know if you've ever tried to wash it out of baby's clothing after a poopsplosion). Stains don't mean the diapers aren't clean, but they definitely can make the inside of a diaper look kind of gross. The good news is that stains can be sunned out quite easily (even through a window), and over time they will wash out. In fact, Petit Prince's diapers are almost all stain-free and I rarely bother to sun out stains; they just end up coming out in the wash over time on their own.
9. "Cloth diapers are too hard to put on. Dad/Grandma/Babysitter won't be able to do it." 
True or False: False. Yes there absolutely is a learning curve to getting a cloth diaper put on correctly. Yes they go on differently than disposable diapers (I will be addressing this in another post soon, promise). However, it's not rocket science. It's actually quite simple once you get the hang of it. King Dad does diaper changes around here too, and he has no trouble getting the diapers on just right. He's mastered both snap closures and velcro closures, and can put on any of the brands of diaper in my stash (no, hip snaps don't throw him off). The same can be said for grandma. I've shown the grandparents how to put on a cloth diaper, and they've done it just fine each time. I think we often don't give the people in our lives enough credit. It's a diaper.
10. "You'll never be able to leave the house if you have to carry dirty diapers around everywhere you go!" 
True or False: False. With disposable diapers, you just toss the soiled ones in the garbage when they come off the bum. It doesn't matter where you are, you can just toss it in the trash and be done with it. It's true that with cloth diapers you will have to transport soiled diapers around in your diaper bag when you're out. That most definitely doesn't mean you can't leave the house! It also doesn't mean you'll be trailed by the stink of poop all day if you're carting dirty diapers around with you. For cloth diapering on the go, there are travel size wet bags for containing soiled diapers. Not all wet bags are created equal, but my favourite brands not only hold in moisture so the rest of your diaper bag doesn't get damp, but they also hold in any stink really well. When I'm on the go, I tend to end up doing diaper changes in bathrooms anyway, so if there is a solid poop in the diaper I can simply drop the poop in the toilet, place the diaper in the wet bag, and away we go. However, there are times when I'm changing baby on the grass in a park or in the trunk of the car. If there's a poop in that diaper, it's getting folded and rolled up in the cloth diaper, and tossed into the wet bag to be dealt with at home. To me, it's no big deal. With a good wet bag, there's absolutely no stink escaping so no one will even know you're carrying around a dirty diaper. My favourite travel wet bags are made by Funky Fluff and Planet Wise, both are available at Lagoon Baby in Canada and Nicki's Diapers in the USA.
11. "Cloth diapers are too expensive." 
True or False: False. The up front cost of cloth diapers is definitely higher than the up front cost of disposables. With disposables you buy enough to get you through the first few weeks or month, and then continue to purchase them as you run out. With cloth diapers, you're buying enough diapers for your baby to use from birth through potty training all at once. Depending on the type of cloth diapers you're going to use on your baby, the cost can range from under $250 for a full stash of prefolds and covers to $650-750 for a full stash of premium brand all-in-one diapers. Yes that seems like a lot of money when a pack of disposables costs less than $30, but keep in mind that that $250-$750 will diaper baby right through potty training. Plan to have more than one child? Those same diapers can be used on subsequent children, so your cost of diapering second or third babies is almost nothing! Meanwhile, with disposables you're spending $30-50/month per child until they're potty trained. Then there's the resale value. You can't sell used disposable diapers, but you can sell previously loved cloth diapers! It's not unheard of to sell your used cloth diaper stash for 30-50% of their original value (or even more if they're especially well taken care of). So that $250-$750 initial investment easily becomes just a $125-$375 total investment to diaper two or more children. Not too shabby.
What assumptions have people in your life made about what it's like to use cloth diapers? Have you run into any objections from your friends or family? I want to hear all about it!